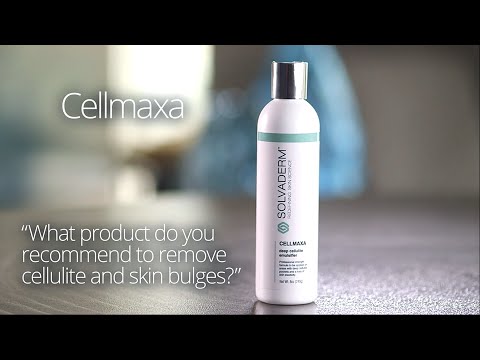 Revolutionizing
Cosmetic Dermatology
Discover Solvaderm's Professional Strength Products For Healthier And More Beautiful Skin.
Cellmaxa is a specially formulated skin treatment that dramatically improves the look of your skin by minimizing the appearance of unsightly dimples, pits, bulges, and other surface irregularities caused by cellulite. Ideal for problem areas like the thighs and hips, it sculpts and firms your skin to give it an even tone and texture and has a noticeable 'plumping' effect on loose skin. Cellmaxa contains a dual blend of clinically proven complexes and ultra-conditioning, skin-nourishing compounds that improve the texture of your skin both at and below the surface, giving it a soft, supple feel and appearance.
Usage
Massage a generous amount of Cellmaxa into any areas of the body where cellulite occurs such as the thighs, upper arms, buttocks and abdomen. Use twice a day after cleansing and exfoliating the skin for best results.
Ingredients
Adiposlim: a proprietary complex that helps eliminate stored fat deposits. As a result, problematic areas appear tighter and well-toned, with fewer dimples or bulges.
Adipoless: works with Adiposlim, enhancing the circulation, promoting optimal fluid drainage and helping to prevent further accumulation of the fat cells that lead to cellulite.
Hyaluronic Acid: attracts moisture from the atmosphere, making the skin appear full, smooth and plump. It also helps to lock in hydration for long-lasting results.
Squalane: this ingredient works with Hyaluronic Acid to replenish lost moisture, improving the tone of the skin surface with a silky texture.
Benefits
Helps to break down and remove stubborn fat deposits
Provides intense hydration for a healthy, smooth texture
Strengthens skin fibers, making them more resistant to bulging and dimpling
Firms and tones the skin for a leaner, streamlined appearance
Reduces the accumulation of further fat cells that lead to cellulite
Is suitable for all skin types, even the most sensitive
The FDA has not evaluated these statements and this product is not intended to cure or prevent any specific skin condition. Remember to read our labels and ingredient lists carefully and always follow the directions for application. If you have a history of skin allergies, a skin patch test is recommended before use. Avoid ingredients that are known to trigger an allergic reaction and discontinue use immediately should a reaction occur.